Places to Visit
Here are a few activities you may be interested in during your stay at Unit 2303. They are too numerous to mention all of them on this page.
Beech Mountain
The highest incorporated town in the eastern United States at 5507 feet. Your view from The Peak reveals ski slopes, gentle to extreme, golf and tennis, rivers and lakes to fish, trails to hike, bike and cross country ski, waterfalls and ancient forests, and everywhere, views from Eastern America's highest town, views from The Peak. Visit the recreation park above the waters of Buckeye Lake, take the family for a hike along Beech Mountain's 18 mile system of maintained trails that wind across the mountain and watch the abundant wildlife that enjoys their natural home. Find the essentials, the right gift, great pizzas, a handmade craft item, fine gourmet dining, or the perfect souvenir of your stay at North Carolina's favorite year-round resort! Shopping and dining on Beech Mountain covers all your daily needs and everyone's taste. Our style is casual, our prices reasonable!
Ski Beech
Located high in the mountains of Western North Carolina, in the Town of Beech Mountain, since 1967 Ski Beech redefines southern skiing as the highest ski resort in Eastern North America, at 5506 ft. above sea level. With 15 slopes and 10 lifts, Ski Beech has terrain for the beginner all the way to the seasoned expert....They also provide tons of fun for non-skiers with our picturesque ice skating rink. Snow Boarders will enjoy Ski Beech, home of the Red Baron Snowboard Shop, with a surface lift adjacent to the half-pipe!

Blue Ridge Parkway
The Blue Ridge Parkway is ranked "America's most scenic drive" by leading travel writers. Following mountain crests from Shenandoah National Park in Virginia to Great Smoky Mountains National Park in North Carolina and Tennessee, the Parkway is the gateway to an Appalachian empire where man can escape the speed and crowding of modern life.
The Parkway's 469 toll-free miles combine awesome natural beauty with the pioneer history of grist-mills, weathered cabins and split-rail fences to create the country's most popular National Park. This "sanctuary of high places" encompasses a world of mountain forests, wildlife, and wildflowers thousands of feet above a patchwork of villages, fields, and farms.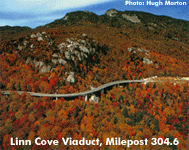 National Park Service landscape architects and Federal Highway Administration engineers agreed the road should be elevated, or bridged, where possible to eliminate massive cuts and fills. Figg and Muller Engineers, Inc. developed the bridge design and construction method. The result: the Linn Cove Viaduct at milepost 304.6, the most complicated concrete bridge ever built, snaking around boulder-strewn Linn Cove in a sweeping "S" curve.
The Viaduct was constructed from the top down to minimize disturbance to the natural environment. This method eliminated the need for a "pioneer road" and heavy equipment on the ground. The only construction that occurred at ground level was the drilling of foundations for the seven permanent piers on which the Viaduct rests. Exposed rock was covered to prevent staining from concrete, epoxy, or grout. The only trees cut were those directly beneath the superstructure.
The Viaduct itself was the only access road for construction. Each pre-cast section was lowered by a stiff-leg crane and epoxied into position against the preceding segment. Steel cables threaded through the segments secured the entire bridge deck.
At milepost 316.4 is Linville Falls. It is a beautiful series of dramatic falls that drop to a deep gorge, accessed by a trail lined with rare virgin stands of white pine, and hemlock. The area around the Falls is one of the few places in these mountains where the rosebay, Catawba, and Carolina rhododendron grow side by side.
So come, share the Blue Ridge magic in overlooks and campgrounds, picnic spots and mountain trails. Leave yourself time to explore the historic, hospitable towns along the way, where you'll find food and lodging, fuel and supplies, and lots of fun and good times.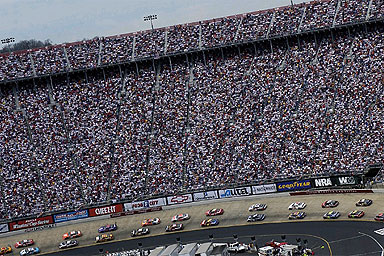 Bristol Motor Speedway, Bristol, Tenn.
"World's Fastest Half Mile," 0.533-mile concrete oval
Degree of banking in corners: 36 degrees
Degree of banking in straights: 16 degrees
Straightaways: 650 feet long.
Concrete racing surface is 40 feet wide.
Seating capacity: 160,000
"Nextel Cup racing in March and August"
The highest point in the Blue Ridge Mountains, Grandfather Mountain is a botanist's and biologist's dream. The International Biosphere Reserve contains 16 distinct ecological communities and 66 rare and endangered species within less than 5,000 acres.

Whether you want to hike, view a variety of animals up close, learn more about the area's natural history or simply go for a relaxing picnic Grandfather Mountain is the place to be.

Probably the mountain's trademark attraction is its mile-high swinging bridge, which is always a popular photo opportunity and sightseeing spot.
Tweetsie Railroad
Visit North Carolina's first theme park, and take a trip back into the days of the Old West. Hop aboard the train for an unforgettable three-mile journey through the scenic mountains; but watch out for train robbers! Tweetsie Railroad also has amusement rides for all ages and live entertainment throughout the park
Virginia Creeper Trail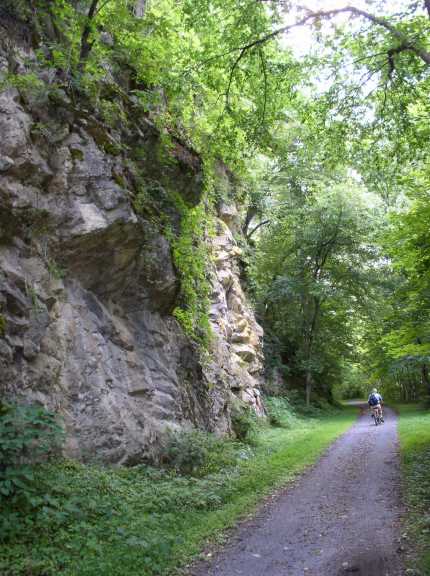 The Virginia Creeper Trail stretches 35 miles from Abingdon Virginia thru Damascus Virginia to the NC State Line near Whitetop Virginia. The Virginia Creeper Trail is open to hiking, mountain biking and horseback riding. The former rail bed passes through the back country of Southwest Virginia. The Virginia Creeper Trail is rich in beauty and regional history. This is a biking adventure that you and your friends will talk about for a long time.

We invite you to browse our website. Come and enjoy the mountains at their very best... Unit 2303 ...at the Pinnacle! Call at 1-800-405-7888 or (828) 387-2231.
Click here to e-mail the Pinnacle Inn Resort